Character Rigging for Animated Feature Film "Happily Never After"
In 2005 I was hired at Bardel Entertainment as a character rigger to assist in creating a series of digital puppets for feature film that was being worked on by various studios around the world (4 that I knew of).
After 3 months, we had lost 2 character rigging supervisors and my peers promoted me to supervisor. I initially turned the position down, as I wished to stay hands-on, but quickly accepted the position after I was assured I could "manage" the group as I felt appropriate. I wished to organize the process so that things worked more bottom-up than traditional.
I started by printing off screencapturing the 30+ characters and sharing them with the rest of the team. The next day we then rolled a die to see who picked first, and we divided up the list of characters to rig. I felt this was important, as I didn't want to fall into the illusion that I knew better than the artists in what they would be most effective at. As time went on, the riggers were able to trade, pick up or hand off characters that better fit their interests or expertise. We naturally found how some characters were similar to others, and tools evolved where needed.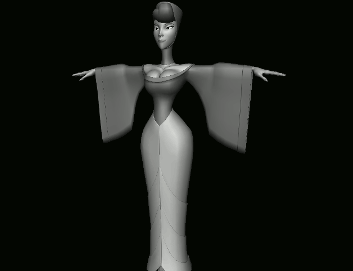 The Trolls
These thick beasts were a major challenge. We didn't have muscle sim technology and the cleanup artists didn't have time to tweak shots where the fat flex wasn't deforming properly, so we made sure that the animators had proper controls along the clothing and flesh, in order to effectively (and quickly) prevent any crashing/clipping of the geometry. We couldn't loose the illusion that the fat was bunching up, and we didn't want the limbs to thin like rubber hoses when they were bent to extremes.
To keep us on our toes, these thick beasts even had a dance sequence that tested their range of motion.
We were able to deliver an incredible level of quality on our entire section of characters, including full facial rigging. Though quite a few of of the characters ended up in the background, our monsters had plenty of opportunity to show off their range of capabilities. While pushing through our workload, we also took the time to provide feedback and solutions for the cast of characters that were not assigned to us. Though our teams were on separate continents, we pulled it off!